"I can't do it! I just can't do it!"
"Don't worry, just give it one more try, watch how Julia does it."
"But I can't do it!" I protest.
I'm ten years old, I don't want to watch how someone else successfully weaves their way in and out of plastic traffic cones, I just want to be able to do it myself. The cycling proficiency course is meant to encourage children to cycle to school and make us more confident on our bikes. Currently it's having the opposite effect.
My bike is a mottled olive green colour, there's a grasshopper on the front and I have vague memories of it being retrieved from aunt's shed after a long period of hibernation. We are not yet, and never will be, great friends.
Balance on two wheels is apparently not my strong point and I prefer to skip two cones instead of wobbling precariously through the slalom. I have developed a remarkable skill in jumping off my bike at the slightest imbalance. I don't even know how I do it, but every time I start to feel unsteady, suddenly I find I've hopped off and both feet are firmly on the ground next to my bike.
The tester evidently takes pity on my tears and turns a blind eye to my fear of traffic cones and I am awarded my cycling proficiency badge. I never cycle to school.
***
I'm fifteen and away with friends in Scotland for a week on our school's 'adventurous training' trip. I love most of the activities – hill walking, canoeing, rock climbing, camping, swimming and orienteering – but I'll readily admit that the activity I least look forward to is mountain biking. I put a brave face on, nervous on the downhills and struggling on the uphills, repeatedly telling myself that it's only a couple of hours after all.
On one particular hill, I'm grinding away painfully slowly, I change gear and my foot slips on the pedal, the bike skips up from underneath me, the chainset catching against my calf. I wince, hurriedly jump back on to the saddle and push on, more concerned about catching up with my friends than any pain. When the group does stop ten minutes later, my leg is still feeling a bit funny so I look down and am shocked to see it covered in blood. A neat line of thirteen gearwheel-sized holes has been stitched up my right calf muscle, a ribbon of scarlet streaming from each one.
We're in the middle of nowhere so I have to carry on cycling at least until we get to the road where another teacher comes to pick me up in the minibus. I decide then and there that cycling is definitely a stupid sport.
***
At nineteen I find myself with a boyfriend who lives, breathes and sleeps bicycles. I find it a little unnerving. I tell him that me and bikes will never be friends, but I don't think he listens for a second. The idea of not having a bike seems wholly incomprehensible to him and so he finds a cheap £40 bike on eBay for me and before I know it, I'm an adult with a bike.
Inevitably, living in London, that first bike soon gets stolen and insurance helps me upgrade to slightly nicer, less squeaky model. We go on a 40 mile ride and I'm quite certain that death would be a sweet, sweaty relief.
One day, we're cycling back to his flat, the turning to which is at the bottom of a long hill. As usual, I'm at the rear, watching as he speeds ahead, showing off on a new mountain bike. Somehow, distracted, braking to turn right, moving over, without knowing how or why, suddenly my bike and I are sprawled across the middle of the road. I shout out as I lie there. A car swerves around me. Another car passes from the other direction, loud and close. Shocked and frightened, I jump up and scramble to the side of the road. My tights are torn, my hands are grazed, my knee is bleeding, one side of my handlebars is all scratched up, there's a dent in my bike bell. A woman rushes out of the pub and invites us inside while I cry and gasp for air, still in shock. Once I've calmed down and cleaned off the worst of the dirt and gravel, I take a deep breath, swing my leg back over the saddle and slowly pedal the last few metres home.
This time I don't swear off bikes forever.
***
At twenty-two, I land the best job I will ever have – as a Sound of Music bicycle tour guide in Salzburg, Austria. I spend my summer cycling with tourists, families, bachelorette parties and excited girlfriends with their less excited boyfriends in tow, showing them sights from the movie and telling them all my favourite Sound of Music trivia (the front and back of the von Trapp house are actually two different locations). My boss gives me extra tips because I can fix punctures on the fly.
My first tour is a private tour for five men from America, all at least twenty years older than me. I'm quite nervous to start with, but gradually we all relax and are having the most wonderful time cycling along in the sun. About halfway through the tour, there's an ominous clunking sound from the bike in front of me and the derailleur suddenly flies out at an angle that makes the bike unrideable and no amount of bending, pushing or silent pleading from me will get it back into place.
At this point I admit that it's actually my very first tour and I have no idea what to do. The guys all laugh and one of them gives me a hug. Together, we walk for twenty minutes to the nearest bike shop and wait for my boss' dad to come over with a replacement bike so we can continue and I can attempt to salvage the rest of the tour, although all thoughts of Julie Andrews and Do Re Mi seem to have disappeared completely.
I'm just so grateful that I was with such a lovely group of people for both my first tour and my first bike failure. After that amount of stress, I know that the rest of the season will be fine!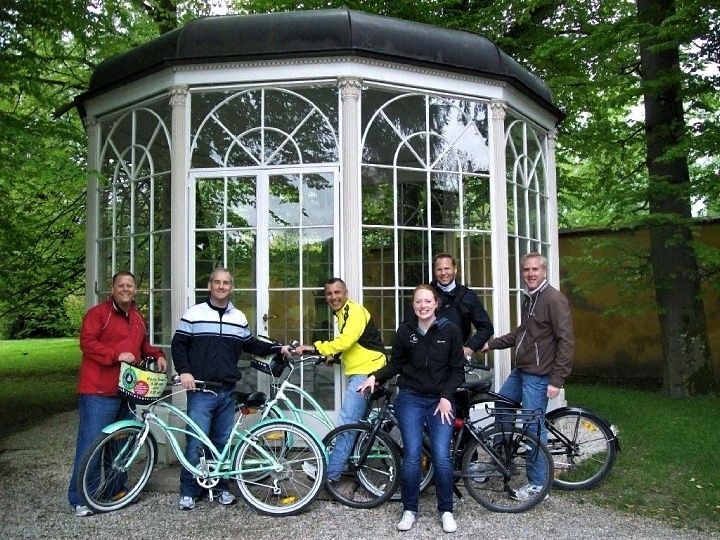 ***
Five years later and I'm working my way towards ticking off one of my biggest bucket list items to date – cycling from Land's End to John O'Groats. The first two weeks have been challenging, delightful, tiring, energising, empowering and gruelling all at different times. I'm five days from finishing and just getting ready to cycle through Glen Coe, a section I've been looking forward to since the very beginning.
Unfortunately, it's been raining since yesterday afternoon and there's no chance of it stopping any time soon. Instead of making the sensible decision and staying in my sleeping bag all day, I decide to pull on my cold, damp kit, pack up my tent and push on through. It's actually kind of fun to begin with. There's a sense of 'me against the elements', the road is beautiful, although the clouds are hanging low over the mountaintops and I'm really loving the challenge.
The weather only goes from awful to apocalyptic, the rain stings in my eyes, water seeps up my sleeves, I forget what it feels like to have dry feet and the gale seems to be blowing from at least three directions at once. The openness of Rannoch Moor only means that the winds get stronger and I have to concentrate on holding my handlebars straight simply to keep moving forward and not sideways. I grit my teeth, "This is adventure!" I tell myself. I've never felt stronger and gnarlier than when pushing through that storm all by myself, intensely aware that should anything go wrong, it would be entirely up to me to save myself. No one can help me, but at the same time I don't need anyone. I feel intensely alive.
A strong gust of wind actually does sweep me off the road and I tumble down the hillside, scattering the contents of my bar bag behind me. Without even pausing to consider how ridiculous it is that I was literally blown off the road, I quickly haul my bike into an upright position, throw all my things back into my bar bag and carry on, headfirst into the rain.
A short while later, the screws on my front mudguard come loose and I have to stop to tighten them up. With shivering, shaking fingers, I fix the screws, eat a flapjack as quickly as I can and take a picture to share my misery with Matthes. If I stop to think about how cold and wet I am, I can feel myself starting to cry and that is certainly not going to solve anything. "You cannot start crying now!" I yell into the wind.
It is only later, huddled in the corner of the Glencoe Visitor Centre, still dressed head to toe in dripping wet clothes and with a bowl of soup that I can't eat because my hands are shaking too much that I let myself cry. Fortunately, the Glencoe Visitor Centre is staffed by the nicest people in the world and once my sodden, sobbing mess has come to their attention, they crank up the radiators, wrap me in jackets and foil blankets and ply me with endless hot chocolate before driving me and my bike to the nearest youth hostel. The weather nearly got the better of me, but once I get warm and dry again, I say that this had, in some ways, been the best day of the whole trip.
***
Just four days later and I'm less than fifty miles from my final goal of John O'Groats. The sun is shining and I've been treated to wonderful tailwinds for the last day. As I reach the top of a short climb, I catch up with Lois and Paul, a lovely English-Canadian couple who I'd shared a hotel with the night before. They ask me to take a picture for them and I happily oblige before asking them the same question. I'm standing precariously (or rather, stupidly) with one foot on the ground and one still clipped into my pedals. As I lean over to give Lois my camera, a short gust of wind is all it takes to knock me over and I tumble gracelessly to the ground, twisting my knee and breaking my camera in the process.
I guess you can't cycle over 1,000 miles without at least one silly accident.
***
For all the falls, mishaps, injuries and punctures, I'm glad that I always got back up again and (eventually) got back on my bike. It may have been a slow journey with some long gaps in between, but I think it's safe to say that bicycles are firmly cemented in my life now. The proud owner of three beautiful two-wheeled beasts, I love that cycling is such a fantastically practical means of transport. In Berlin, it's the most efficient way to get around, it's a killer workout (for the record, I'm just getting back into triathlon training and I'm dying) and your bike can take you anywhere you could ever dream of going.
Here's to falling off and getting back up again many more times in the future!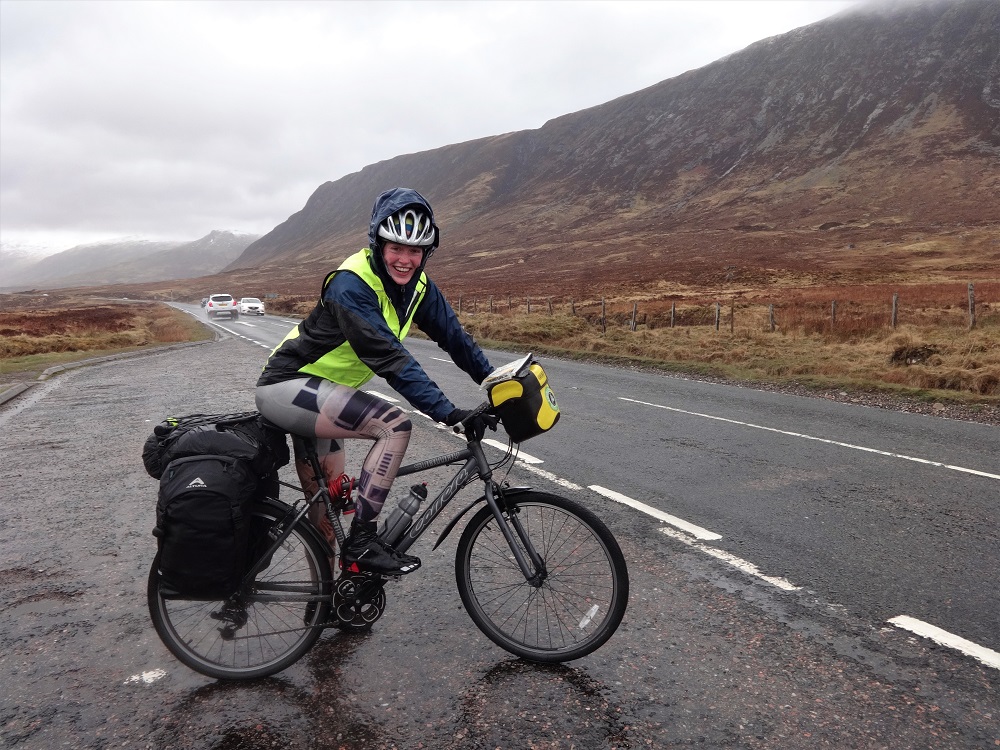 Sarah is a freelance translator living in Berlin. She loves a good old adventure, from dog sledding in Sweden to cycling Britain, from running a marathon to exploring abandoned buildings and from watching the sun rise from atop Ben Nevis to pedaloing from Prague to Berlin.