Don't be misled by the 'half' distance. For the less endurance-sport-obsessed people out there, the 'Half-Ironman' or middle distance triathlon (or 70.3 if you're really cool) consists of a 1.9km swim, 90km cycle and a 21km run (half marathon) at the end. That's a long way by anyone's standards! I decided I wanted to do this at the start of the year, I started training in March with a full on training plan (6 sessions a week) kicking in at the end of April. Now the big day has finally come and I just wanted to share some of my thoughts as I prepare to line up at the start.
I'm not crazy. The default reaction when I say I'm about to spend more than six hours swimming, cycling and running is "Wow, you must be crazy!" Well, I'm not. I just like stupidly big challenges that give me The Fear and three months' worth of motivation. Not only that, I like being outside, I like pushing myself, I like swimming, I like cycling, I like running, I like being able to eat huge piles of pasta guilt-free, I like ticking boxes on a training plan, I like getting stronger and fitter and I like doing something I've never done before.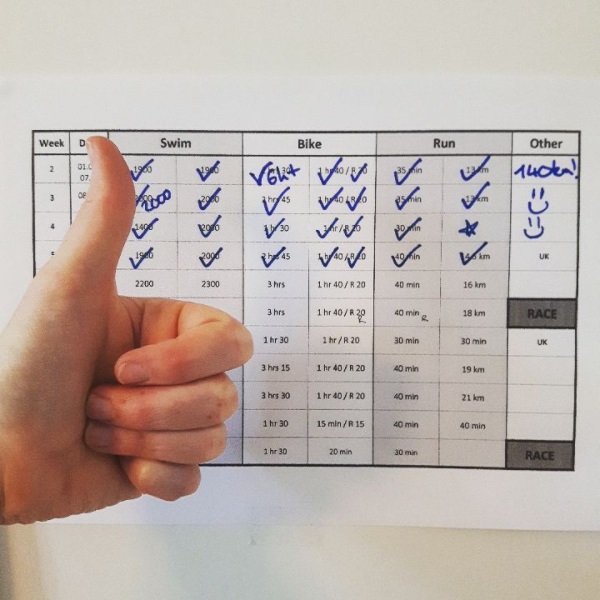 Sorry if you haven't seen me lately! Training six times a week is not only a test of your physical capabilities, but also your time management and organisation skills. This includes arranging my work schedule around pool opening times (so grateful to be a freelancer, I don't know how people with proper office-based jobs can do this!), packing in double training sessions on a Friday night so I can go away over the weekend or simply making sure I have the right bits of kit, clean and ready to use on the right day of the week. It's no easy task! But I'm very proud to say that apart from the week I had a cold, I've ticked off all but one of my training sessions over the last 11 weeks and managed to maintain some semblance of a social life!
Hunger is always just around the corner. If I ever say I'm feeling too full, what I really mean is 'I need 10 minutes before I can eat again'.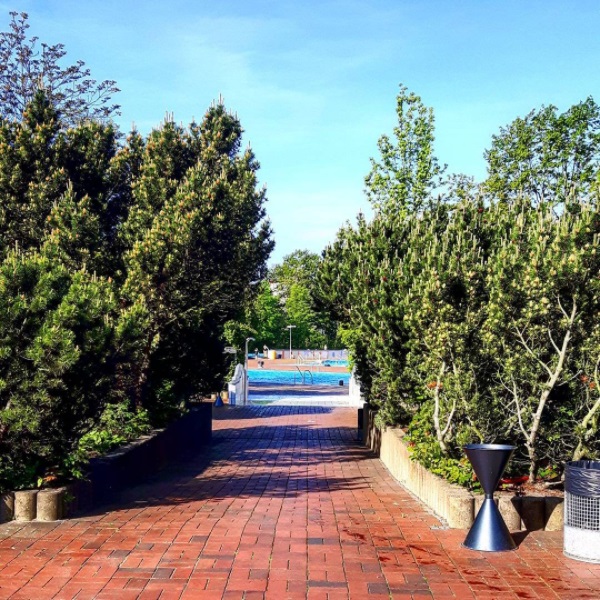 I love swimming. This year I've really enjoyed swim training, I'm still not very fast, but I really enjoy it and that's got to count for something, right?! There's something so meditative about working your way through the water and I love that it doesn't leave me red and sweaty for hours afterwards (although the goggle marks are a downside). A large part of the new enjoyment has been the discovery of early morning sessions at the open air pool Sommerbad Kreuzberg. It's a twelve minute bike ride from my house, I have a 20-ticket pass making it very cheap and there are two fifty-metre pools, one of which always has a couple of lanes pegged out. It's the best. Having said that, I woke up late the other day and went to Columbiabad for the first time this year (it only opens at 8am) and not only is it closer to where I live, but I shared the whole fifty-metre pool with a grand total of five other people! I love the feeling of gliding through the clear water on a quiet, sunny morning, something I can definitely recommend to everyone! I haven't done any open water training (lakes are so far away!) so my triathlon will probably come to a watery end as I drown in the pack, but at least I've enjoyed the training!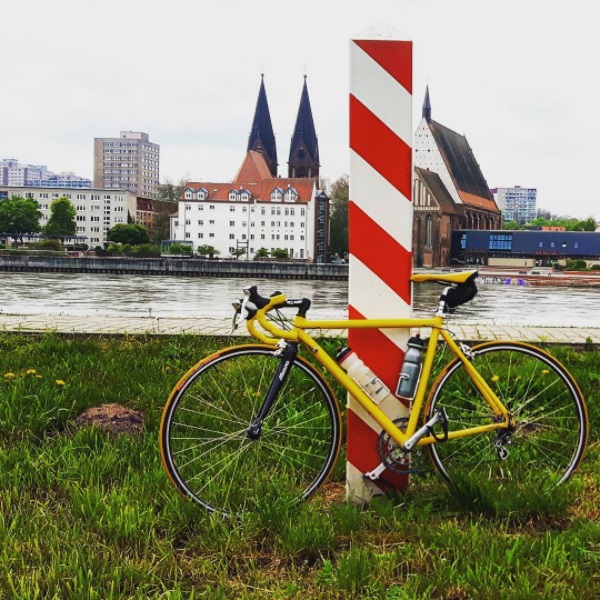 Cycling is not my fave. Now don't get me wrong, I love cycling; it's a great way to get around the city (crazy drivers on Hermannstrasse aside), it's simple, it's beautiful, it's the perfect way to travel long distances, it's healthy and practical, I'm all for more people cycling. However, cycling purely as a form of exercise is so boring! I think it's partly resentment that triathlon has you spending so much more time on the bike than running (and I would always rather be running), but somehow I always find myself putting off my bike rides until it's either a) late and I'm hungry and tired before I've even started or b) raining. I have enjoyed getting out of the city and exploring some of the areas south of Berlin (komoot app has been great for finding new routes), there are some really lovely bike paths out there so the long rides are often ok;weirdly it's the shorter sessions that I enjoy the least. I can only thank the No Such Thing as a Fish podcast and the Hamilton soundtrack for getting me through these. And Beyoncé. Of course.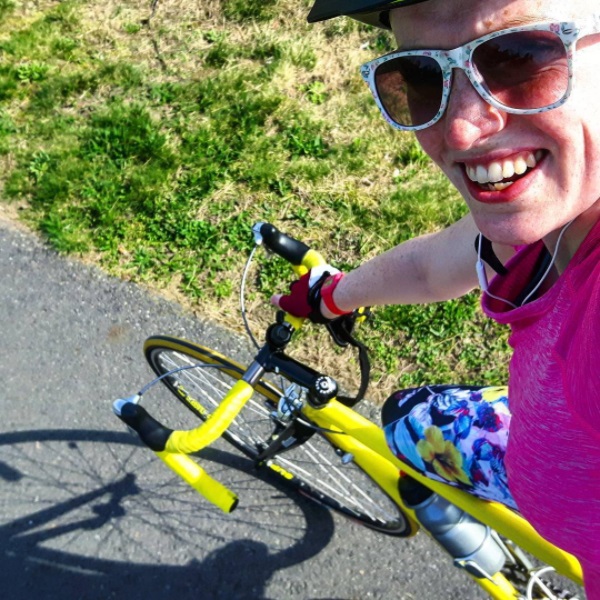 I feel great. It's hard to say this without sounding cheesy, but the biggest thing I've learned from the past few months of training has been to feel confident in my body. I want to delete those words because they sound so corny, but it's true. I haven't really changed much, my jeans are now looser around the waist but tighter around the thigh, more muscle definition in my arms, but that cellulite is here to stay. Swings and roundabouts. What has changed however is that when I look in the mirror, I don't just suck my stomach in and wish for abs to magically appear (still waiting…), I see a body strong enough to cycle for seven hours, to run 20km on a muggy Sunday evening, to get up at 6.30am and swim for an hour in the rain. A body that I'm proud of because I know the hours of work that have gone into it and all the things that I can do with it. I've stayed injury free and I actually feel better going into this than I did before either of the two marathons I've done, despite a much higher amount of training hours, so, although running will always be my first love, I think it's time to admit that triathlon is kinder on the body.
I can't wait for Sunday. It's time to put all this work to the test and finally face up to this huge challenge I've set myself. I've completed all the distances individually in training so it's 'just' a question of putting them all together in a competitive environment and not getting a flat tyre at any point in those 93km. Currently 15% nervous and 85% excited.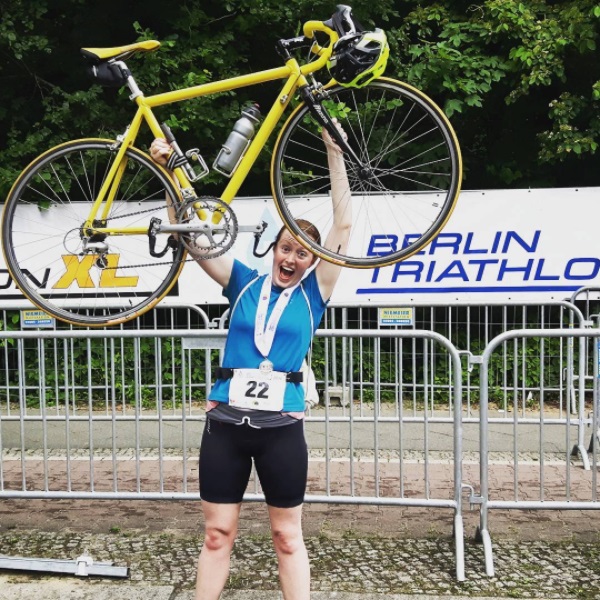 I also can't wait for Monday, which will entirely be spent at the spa, followed by eating chocolate on my sofa.
Sarah is a freelance translator living in Berlin. She loves a good old adventure, from dog sledding in Sweden to cycling Britain, from running a marathon to exploring abandoned buildings and from watching the sun rise from atop Ben Nevis to pedaloing from Prague to Berlin.