A guide for all those curious about our raft and those who might be planning their own adventure.
The raft is made up of three main sections: the platform, the tubes and the "house". On top of this, there are also various accessories that are necessary for a fun, safe and successful raft trip.
We owe a huge debt of gratitude to the Yachthafen Kuchelau in Vienna who allowed us to use their boatyard, multiple power tools and their forklift truck over the two days of construction – building a raft takes up a lot of tools and space! We are also extremely grateful to the awesome canoe club in Paks who were similarly generous with their space and facilities as we dismantled the raft at the end of our journey.
The platform
This is the weightiest part of the raft and needs to be really stable (as we learnt) in order to withstand the weight of 6 people plus luggage whilst riding the river's waves and currents.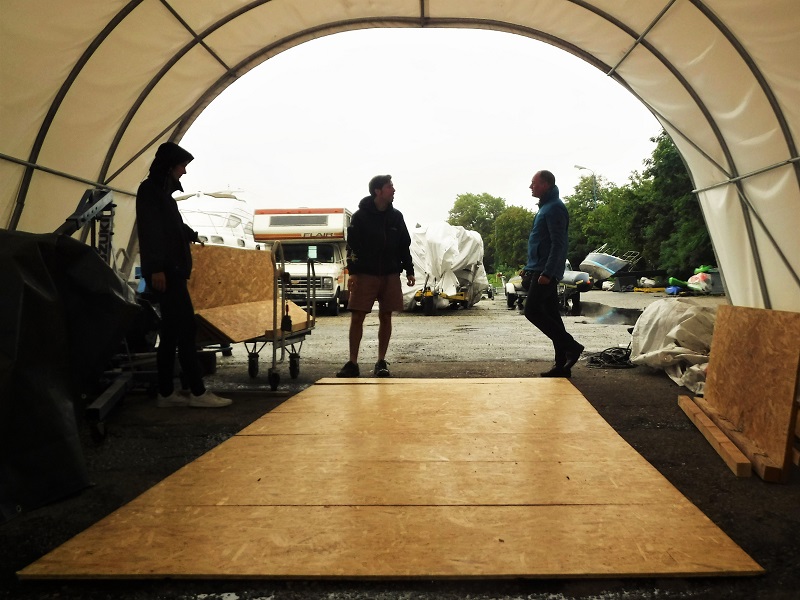 We started out with two layers of OSB boards screwed together. The bottom layer was laid out with most of the boards lengthways and the top layer had all boards fitted together horizontally. This cross-directional fit was designed to create greater stability, but it was not as stable as originally hoped because we could only use very short screws to attach the two layers to one another. This basically meant it started falling apart as soon as we started loading it for the first time last year and emergency reinforcements had to made, followed by a day of repairs shortly afterwards.
On the underside of the platform we attached ten 2 x 4 lengths of wood. Unlike last year, we didn't attach these on the broad side, but rather drilled through the narrow edge and used long screws to attach them across the width of the platform.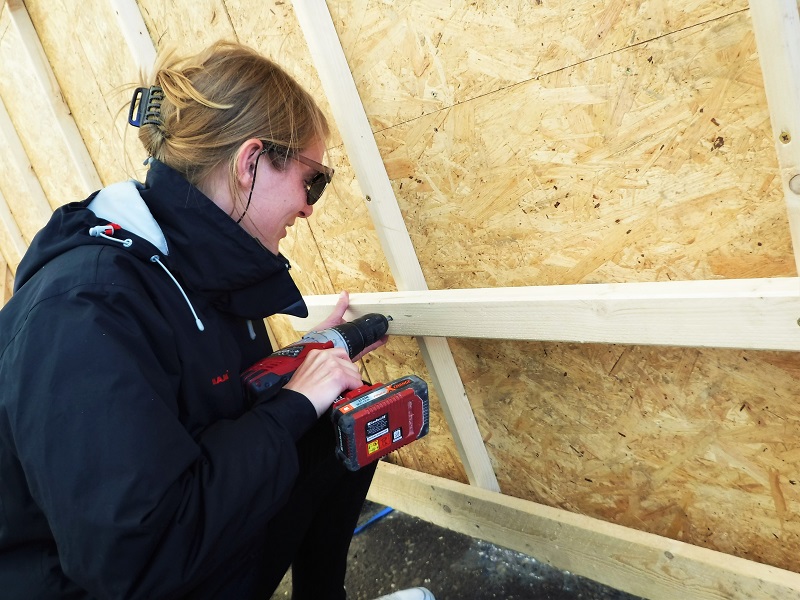 One problem we had last year was that the tubes would be pushed out to the side of the raft by the water flowing underneath, creating greater instability in the middle and pulling on the platform. To prevent this, we created guide rails on the underside of the platform, using planks screwed along the raft's length with a second "rail" about 50cm inside of this. The tubes would sit inside this space whilst the rails also gave us much better attachment points for the straps (see below). I, for one, was surprised at how well this worked!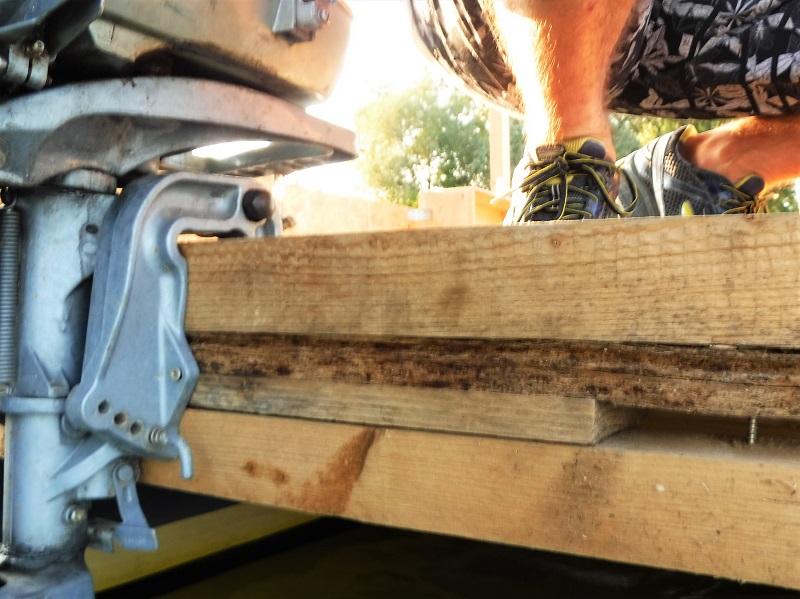 The back of the raft had to be reinforced as this would bear the weight and power of the outboard motor. A 10cm x 10cm length of wood was attached to the top of the platform, this is what the motor was clamped on to. Below the platform, the area was reinforced with another couple of sturdy bits of wood and some very long screws.
The top of the platform was finished off with a set of 2x4s screwed flat around the edge of the platform. This gave additional reinforcement for attaching the cleats (vital for when you want to tie your boat up anywhere) and also stopped things from rolling off the side into the water!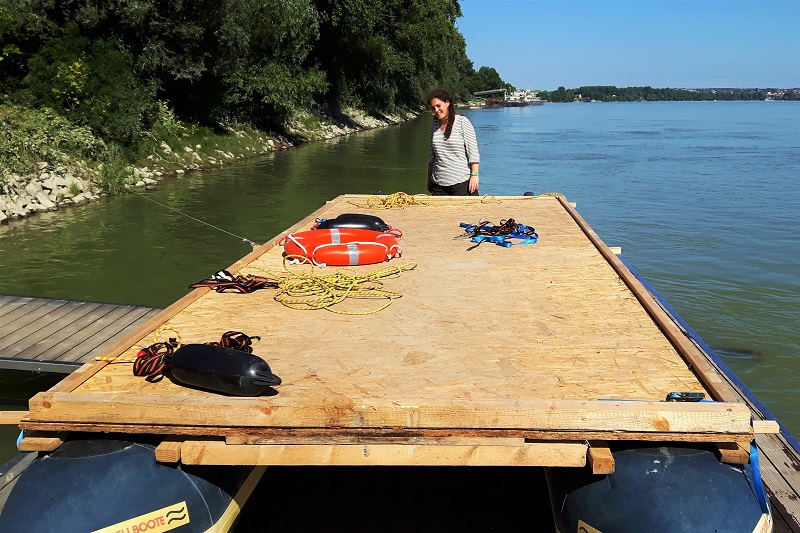 The tubes
If you want to build a raft, you're going to need something to you afloat. A common option is to use sealed plastic barrels. Thanks to meeting professional raft guide Roman two years ago on our pedalo adventure, we were able to buy some used rubber tubes from him, which was actually the moment when we knew we would actually be able to build our own raft for the Danube. When new, each tube can support 1.8 tonnes before being fully submerged, meaning that even though they were a few years old, we had more than enough buoyancy for our purposes.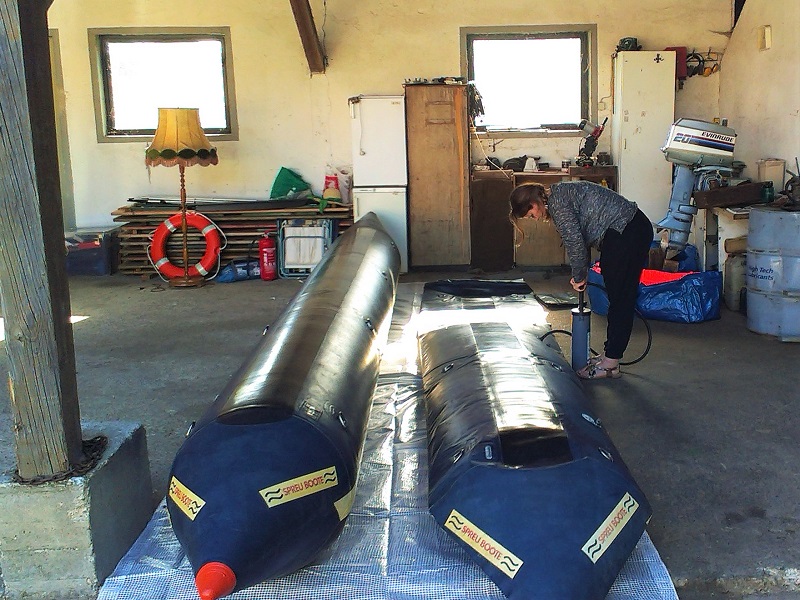 The tubes also have three internal chambers which can be pumped up separately, meaning that if a puncture does occur, the whole thing won't collapse immediately. The Titanic's "unsinkability" was based on a similar principle so make of that what you will…
When deinflated, the tubes can be packed together into a bag for transport (although they're still pretty heavy!).
Each tube was attached using four tension belts. Learning from last year's mistakes, we found a way to feed the belts around multiple points in different directions so as to pull the tubes equally to the front and back as opposed to just upwards, thus creating a much better hold and fixing the tubes in place in a more stable manner.
The house
The main purpose of this section was to a) provide some shade from the sun and b) give us somewhere to hang our lampshade. We very quickly learned that it wasn't much good at providing shelter from the rain, but fortunately we didn't need it for that purpose all too often.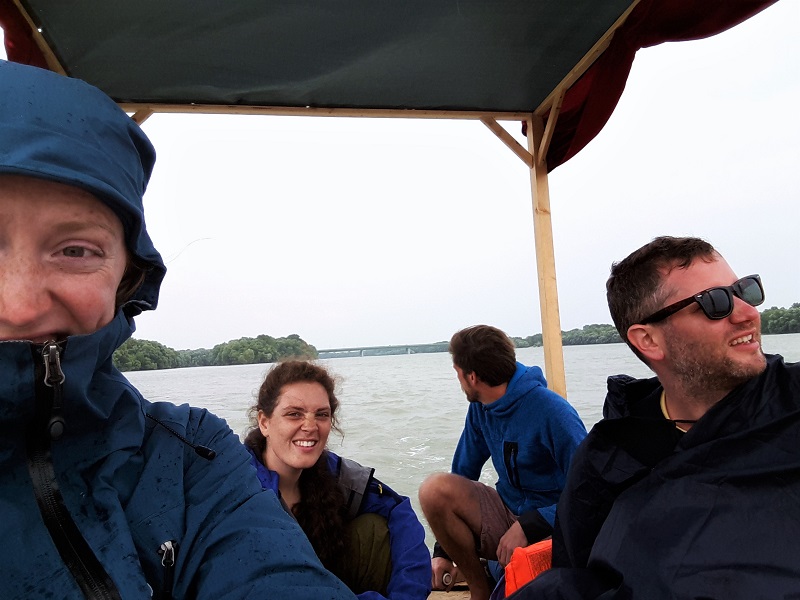 This structure was essentially the frame for five sides of a cube, attached to the base with metal brackets and diagonal struts. We added a few more diagonal struts this year, particular on the back and this made a significant improvement to the structure's overall stability. The sides were made using OSB boards that had been cut in half lengthways and screwed to the diagonal struts to stop all our stuff falling overboard.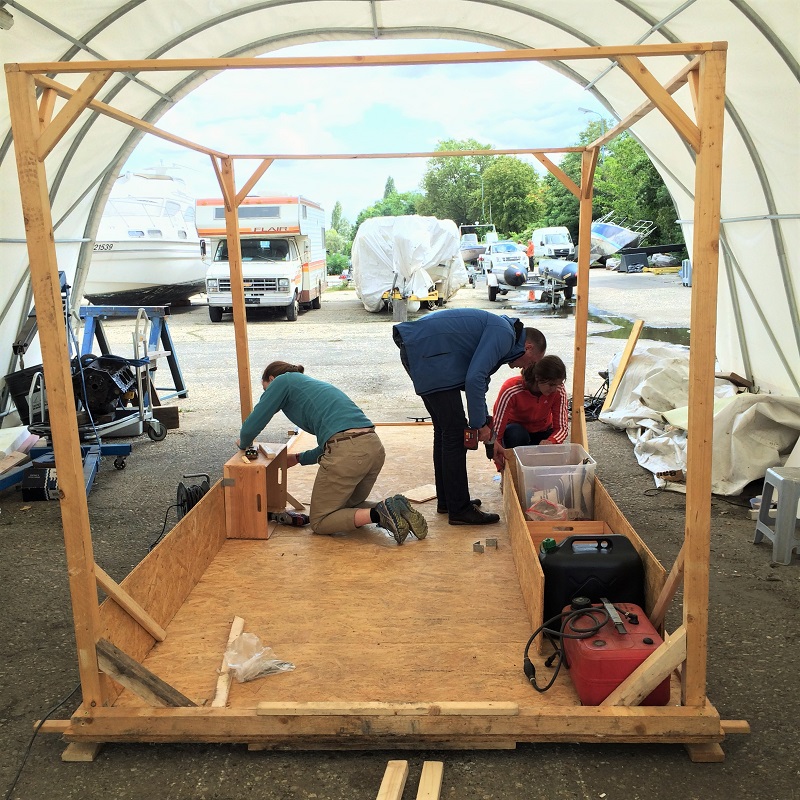 The roof (a standard tarpaulin stapled to the frame) covered around half of the raft and, with the addition of two protruding lengths of wood and some bungee straps, we were able to set up a semi-rollaway sunshade to cover more of the raft as and when it was needed.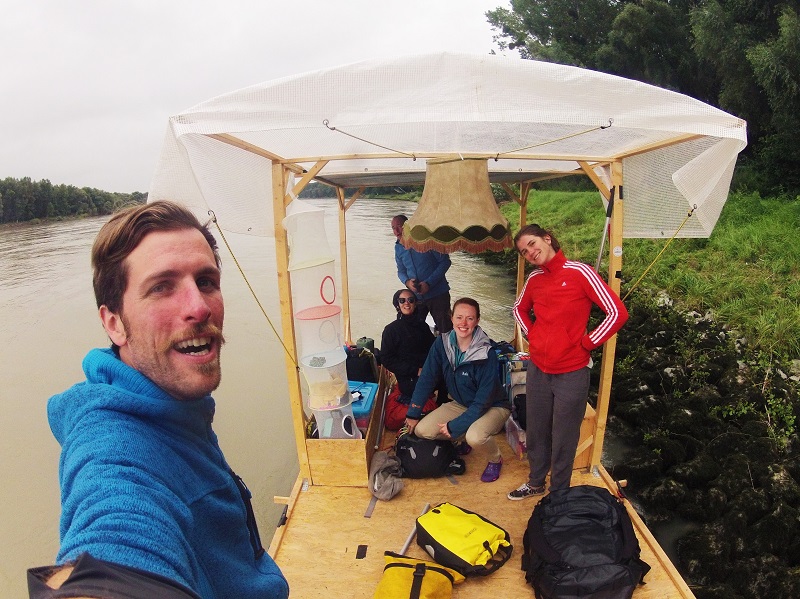 If you want something more "rain proof", I would suggest a lower, sloping roof and some way to cover up at least some of the sides. However, you also need to bear in mind that the driver needs clear 360° vision at all times, not to mention access to the motor at the back of the raft (unless you're going to get super fancy running lines forward and having an actual steering wheel), so it's not really feasible to enclose the structure entirely.
A note on the engine: Whilst most people think of idyllically drifting along with the current when we tell them about the raft, this is not possible on the Danube or on some of Europe's other main rivers. Due to the heavy river traffic (huge cargo ships, tourist cruise ships and lots of small motor boats), it is a requirement that all vessels larger than a canoe are equipped with a motor. After Vienna, the number of boats we passed daily thinned out a lot and we did spend long periods just floating along in glorious silence, but there are several occasions (locks, mooring, avoiding crazy motor boat captains) when you really do need that extra power. If you want to go on a non-motorised raft adventure then you're going to have to do it on a much smaller, quieter river.
Storage
One thing you will very quickly realise is that six people on a raft amounts to a lot of stuff. In addition to everyone's personal luggage (usually one large rucksack plus a small backpack/valuables bag), cooking and camping equipment plus food and water for six people, there was also a whole list of things we were required to have on board such as life jackets, a fire extinguisher, a life buoy, first aid kits, ropes, paddles and fenders (and yes, authorities in every country did check that we had the necessary equipment and papers). A lot of stuff.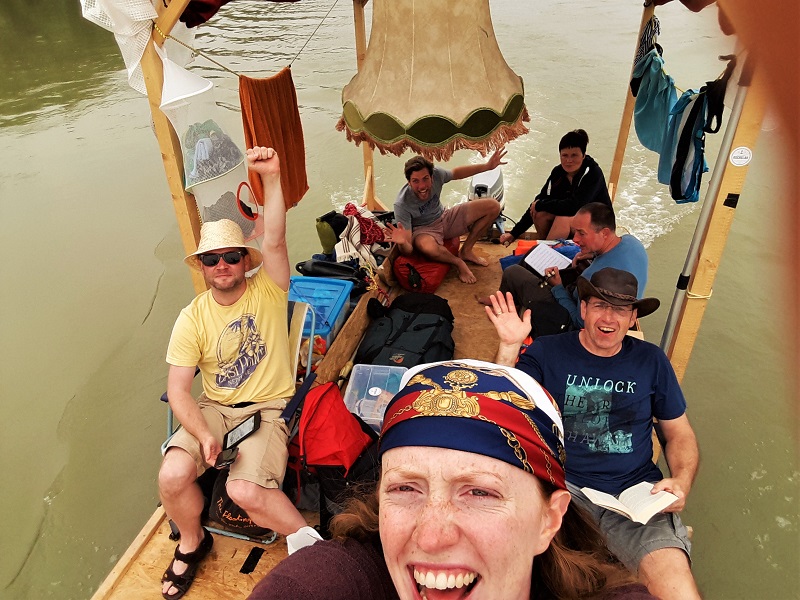 It's surprising how quick all this paraphernalia can get jumbled up and spread around, in spite of my best efforts to keep everything shipshape! Top tips:
Boxes! All our cooking equipment and food went in one big plastic box with a lid. There were also two other plastic boxes with clip-on lids for other general equipment and things that needed to stay dry.
Side compartment: using another OSB board we created a compartment running along the side for storing tents, small bags, boxes and other raft equipment.
Nets: one of the best things we bought for this year was a toy storage net, which we hung from the roof where everyone could keep all the small bits and pieces they needed through the day, e.g. sunglasses, sun cream, cameras, towels etc. Great for quick access and for keeping all those little things from getting trodden on/lost/swept away.
Hooks and bungees: from hanging up washing to securing the shower curtain sail, you can never have enough bungee straps!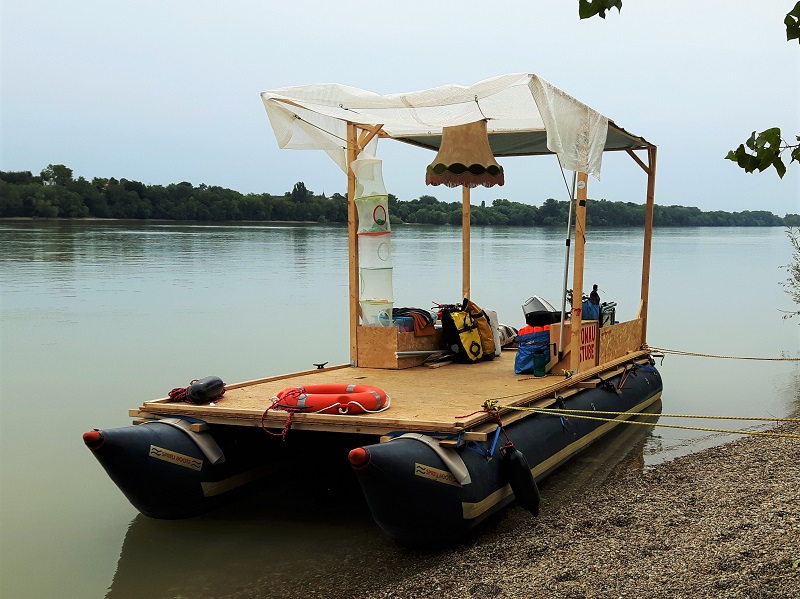 Building a raft is not an easy undertaking, but we like to think we've learnt a few things along the way. Are you planning a raft adventure or trying to build something similar? We'd love to hear from you and would be happy to help you out with any issues you may be having.
Or maybe you like the sound of a raft adventure, but can't get hold of the equipment or don't know where to start with building it – don't worry! We are looking for worthy adventurers to buy our raft and continue the adventure wherever the currents may take them. After two awesome summer holidays, we are ready for something different and would love to see the Donau Stube sail again under a new captain. It comes fully equipped with all the necessary bits and bobs for safety, camping and fun times and we would even be able to help you put it all together! Get in touch for more details.
Sarah is a freelance translator living in Berlin. She loves a good old adventure, from dog sledding in Sweden to cycling Britain, from running a marathon to exploring abandoned buildings and from watching the sun rise from atop Ben Nevis to pedaloing from Prague to Berlin.