This year I had two major goals – to cycle from Land's End to John O'Groats and to run my first marathon. With both of these goals ticked off by early October, I found myself hankering for another challenge to focus on before the end of the year. Luckily I didn't have to wait too long.
Matthes and two of his friends had signed up for the inaugural Dragonheart Battle obstacle race, but unfortunately he had to pull out due to a back injury just a few weeks before the race. One of his other teammates Martin was also out with a shoulder injury leaving just Erik, a mud run novice. And I could hardly leave him alone now, could I?
And so, this weekend, with just a few weeks of training behind me and no long distance runs since the marathon, the two of us put on our best outfits (a tribute to Martin and Matthes in previous races) and headed to the start line.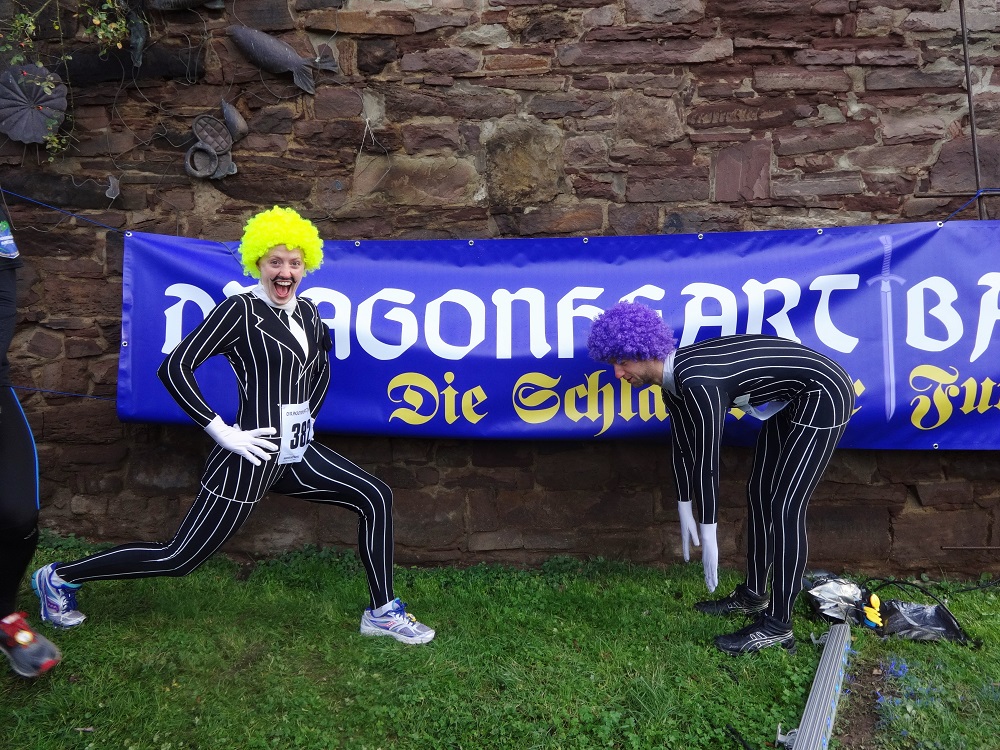 Full points have to be awarded for the race route, which was essentially a 25km loop from one castle to another and back again using forest tracks and fields for most of the distance. Some sections were really quite lovely – undulating woodland, hopping over logs and flitting through the trees (less hopping and flitting later on), the sun was shining, although a little chilly, and there was more elevation in 25km than I've run in six months altogether (remember: Berlin is known for being F L A T).
The biggest test for me was swimming across the river, which had a strong current and was more than a little chilly on a November afternoon! We both made it across the river to where Martin and Matthes gave us some encouragement (and energy bars) and we wasted no time in getting back to running – what better way to warm up again than running 300m uphill?!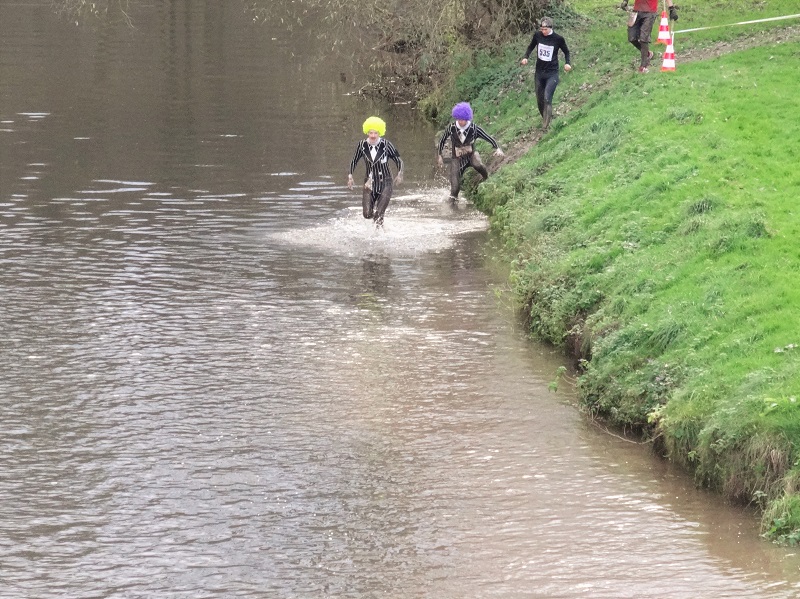 The high point (literally and figuratively) of the course was storming the Trendelburg castle, perched on top of a hill and finding a drinks station serving a warm energy drink in the castle courtyard. All the inhabitants of Trendelburg turned out to watch; the village marking the halfway point and being where most of the obstacles were located. Local companies sponsored the race, providing cement sacks and hay bales to clamber over, electric fences to crawl under and tractor loads of mud to climb up and over. Thanks to the zig-zag route up and around the village, we were able to see our favourite cheerleaders Matthes & Martin several times before heading back out to run another 10km cross country to the finish line.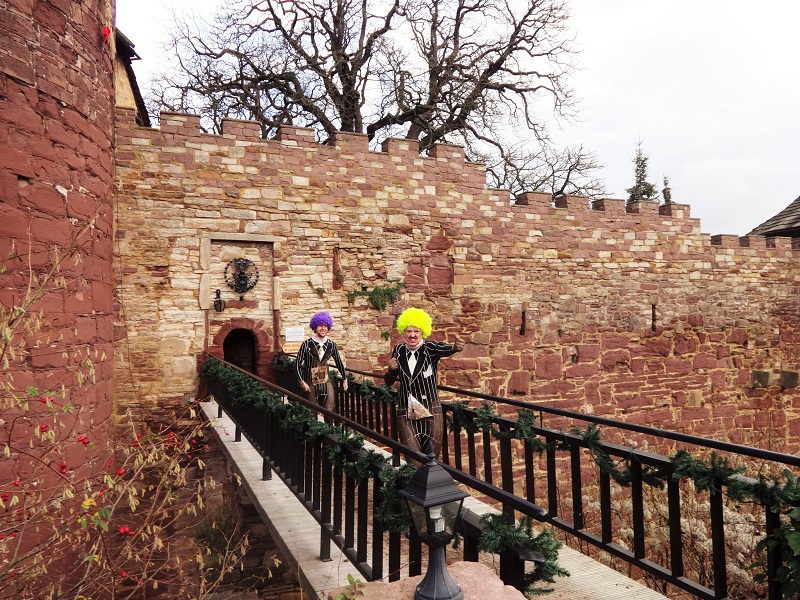 Despite never having run together before, Erik and I matched paces very well and had a similar positive mental attitude throughout, something which is really essential in these kinds of races. My personal highlight was on a long (nearly 1km!) uphill section towards the end where most people were walking and we managed to keep to a respectable run-shuffle most of the way, overtaking people as we belted out several choruses of DJ Otzi's "Heyyyyyyyyy, hey baby! Ooh! Ah!" (in my opinion a perfect song for singing whilst running), with our fellow runners joining in too.  It's great to be able to put a smile on other people's faces when you know just how exhausted they're feeling.
The final kilometre took us back through the old quarry that formed our first and last obstacle. Knowing the end was near we made the most of the opportunity for a quick mud bath so we could finish in style. I still don't know why no one wanted to hug me afterwards?!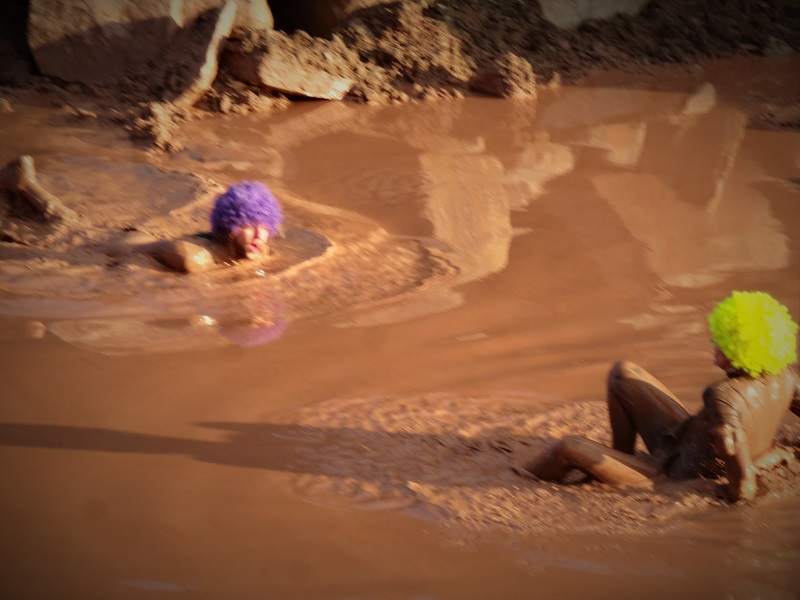 We ran through the castle gates together, three and a half hours after starting, with 25km of running and over 20 obstacles behind us and that kind of happy, exhausted smile you get when you know you've really pushed yourself and loved it at the same time.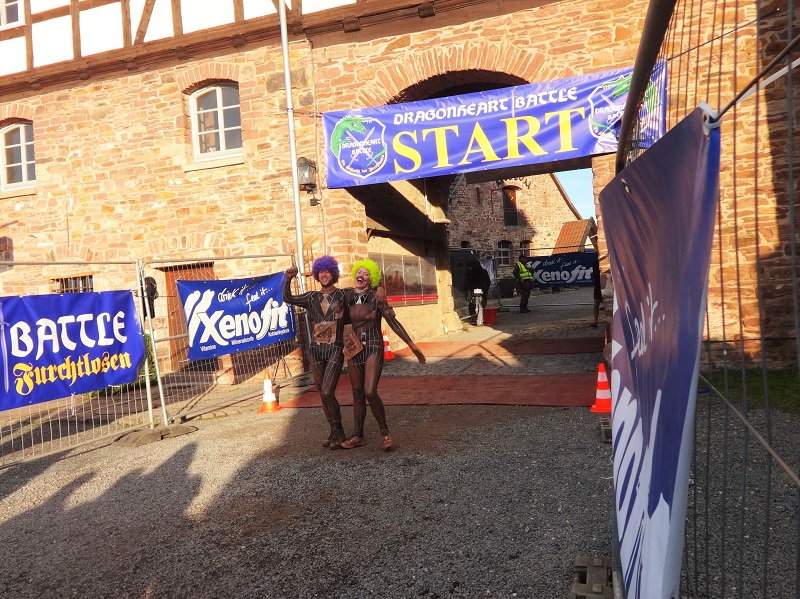 Before the race, I was mostly worried about the amount of obstacles and anything that would involve climbing or upper body strength. This was due to my serious lack of coordination and strength when it comes to these things and, although I have been known to smash a set of monkey bars on occasion (although never when wearing Lycra gloves), I've had a tough time on these types of obstacles in other races. In one way, I was happy that this race didn't actually feature any walls, ropes or monkey bars, because obviously there was then less chance of failing miserably. However, there is a small part of me that feels disappointed about the lack of opportunity to face my weaknesses and fears. I do love a challenge after all!
I loved the community spirit feel of the race and it was nice to participate in such a small scale event where we got to dance with the "Masterchief" himself at the afterparty. I would have liked to have more obstacles and less distance between them as there were long sections of just running, which I can kind of do anywhere, the obstacles are what makes it special. I would have also liked a little more variety and different types of obstacles, although with that said, you definitely don't get to crawl under a JCB truck at every race!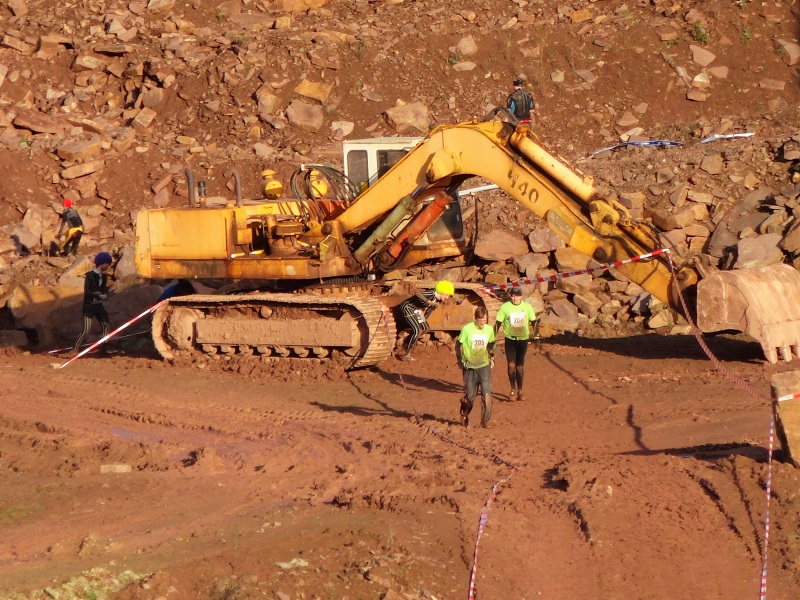 This race was organised by PAS Team, who also run a series of other races around Germany, each themed to the local area. Matthes has already completed Braveheart Battle and Limes Run and we both hope to run some of them together next year.
Thanks to Matthes & Martin for being awesome cheerleaders! I think they had almost as much fun watching as we did running. Later on, at the after-run party, another runner even came up to them to say thanks for the great encouragement – it really does give you a huge boost to have people cheering you on like crazy.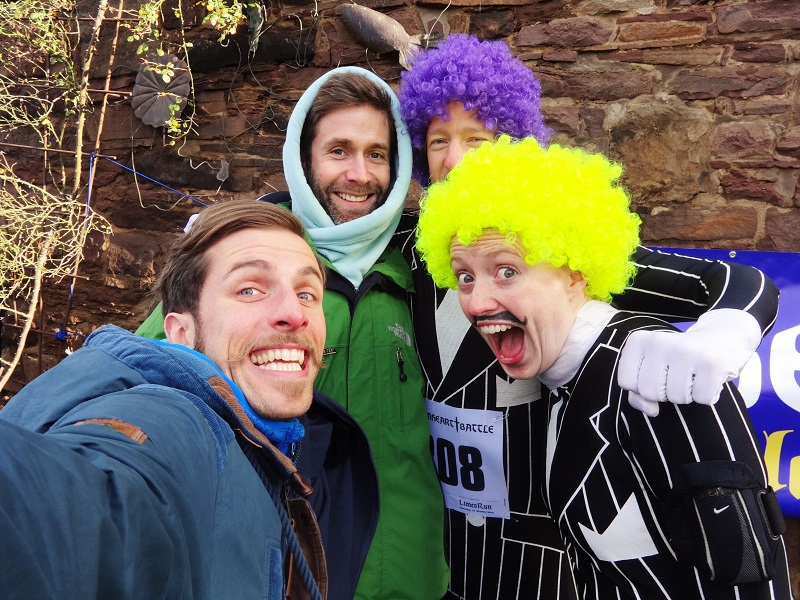 And of course, thanks to Erik for being such an awesome running companion – looking forward to more runs together in the future!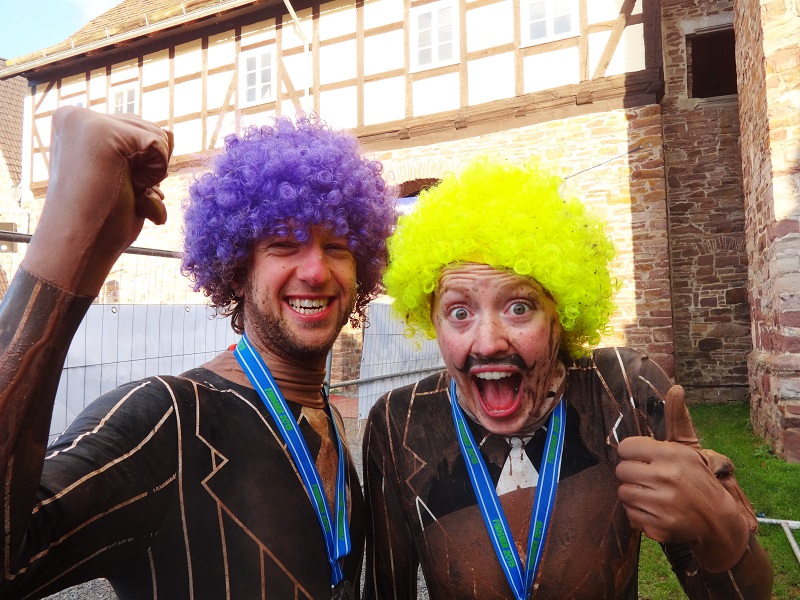 Check out all the fun we had in the video below!
Sarah is a freelance translator living in Berlin. She loves a good old adventure, from dog sledding in Sweden to cycling Britain, from running a marathon to exploring abandoned buildings and from watching the sun rise from atop Ben Nevis to pedaloing from Prague to Berlin.