When one of my best friends asked if I would run a half marathon with her, I signed up in next to no time. Not only was I excited about the chance to spend a couple of hour jogging along beside one of my favourite people in the world, but, after some intense marathon training last year, I welcomed the thought of a more relaxed run. This idea might seem completely crazy to some of you more serious Lycra junkies, but here are some of the reasons why I think that everyone should sign up for a race that's "just for fun" at least once: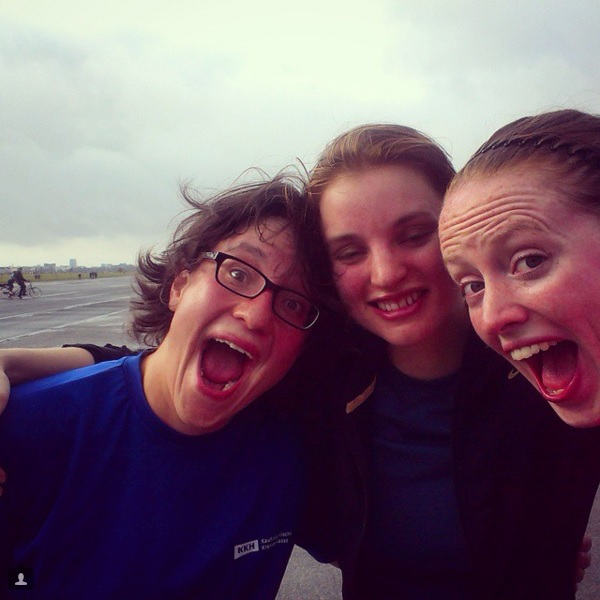 It's more sociable. If you're going to run for fun, you might as well spread the love and run with a buddy. This is the perfect chance for you to encourage a friend to either sign up for their first race or try out a new distance by promising to stick with them throughout. Maybe even get a group of friends together? If you live close together you can also start the good times earlier by training together too. And on race day itself you don't need to be breathlessly overtaking people – run at a pace where you can keep up the chat and you'll find the miles ticking by just as fast.
Less training stress. Got a cold? Don't want to get up early for the fourth time this week? Too many beers last night? It's ok! Whilst you should keep up regular running, you don't need to experience the guilt of a missed training session if you're not aiming for a new PB. With a two-week holiday booked before the Berlin Half Marathon, I knew I wouldn't be on top form, but I did what I could and knew (was 95% certain) it would be enough on race day.
Flexible pre-race food. I am the last person to say no to some carb loading, but with Matthes' birthday the day before the Berlin Half Marathon, it was nice to just enjoy all I wanted at his birthday barbecue (yes, including wine *gasp*) without worrying whether or not this was the ideal race preparation. If anything, I've learned that large amounts of barbecued meat, cake, bread and guacamole actually feel pretty great the next day.
No starting pen panic. Have I been to the toilet enough times? Have I put on enough Bodyglide? Am I wearing my lucky pants? Did I pick the right energy gels? Should I have worn different shoes? All those crazy panicked thoughts that ambush you once you're in your starting pen just disappear when your main goal is to relax and enjoy the race. Deep down you know you can run 21km (or whatever distance) no matter which pants you're wearing or how many gels you brought with you.
It's a well-known fact that fancy dress costumes are not conducive to great race times (unfortunately), well now's the time to crack out your fancy dress box and get creative! Costumes will usually also attract more attention from the crowd, which will of course make it even more fun!
Party pace. Take those selfies, run over and hug your favourite supporters (i.e. the ones you know), dance to the drums, stop to sort out sock niggles – if you're normally too worried about losing precious seconds to take the time to do this then you should definitely slow down the pace a notch. It's these little things that can make the race much more enjoyable.
Enjoy the sights. Whether in a big city or out on a hilly trail, the route has likely been chosen to take in some of the best local sights so why not slow down a little and actually see the sights?
All the perks. You still get the expo entry, t-shirt, medal, finisher buffet and bragging rights with virtually none of the stress.
And the final, most important reason:
I believe that running should be fun. Some days it might not seem like fun when you're on your twelfth 500 metre sprint or the final kilometre of your tempo run and sometimes we forget why we even started running in the first place. That's why it's important to take the time to really enjoy a run once in a while, soak up the atmosphere, celebrate this sport we all love and remember what it is that makes us want to lace up our running shoes time and time again.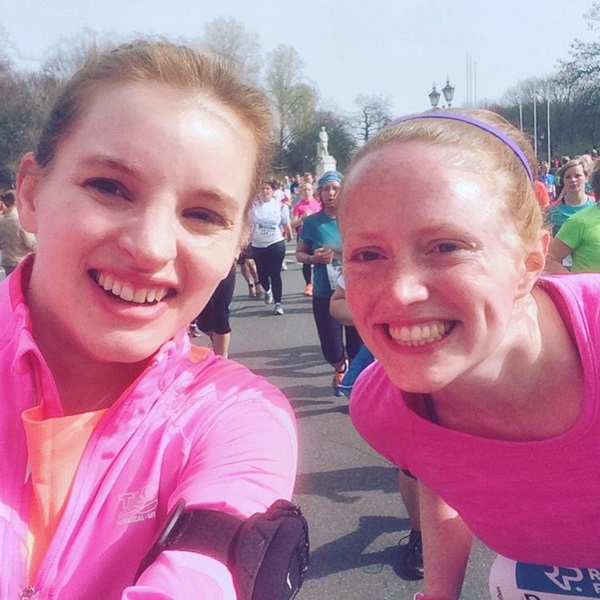 A note on distance: when picking a "fun run", I would recommend sticking to a distance you feel comfortable with, otherwise things can get pretty unfunny pretty fast.
I had an absolute ball running the Berlin Half Marathon. Yes, I would like to run another half this year and work on getting a good time, but it was SO NICE to relax for once and just enjoy running through this great city with 34,000 other people. If I could change anything, I would have run it in fancy dress, but other than that, I don't think I could have had more fun.
Hugest love and thanks to Hannah for being a fabulous race companion and thanks to Matthes, Kai, Eva, Martin & Silvia for the excellently coordinated cheer stations – I hope you liked the sweaty hugs!
Sarah is a freelance translator living in Berlin. She loves a good old adventure, from dog sledding in Sweden to cycling Britain, from running a marathon to exploring abandoned buildings and from watching the sun rise from atop Ben Nevis to pedaloing from Prague to Berlin.