We had used a train, a tram, a bus and a man with a van to travel the 375km from Berlin to Prague, but there was only one way we would be getting back – along the Vltava and Elbe rivers in our pedalo. This fine river vessel had been loaded into the back of a van early that morning, driven along with us and our luggage to Prague and had now been unloaded on to a grassy bank next to the wide and murky expanse of the Vltava river just south of the centre of Prague. It had yet to touch water since coming into our possession 1½ weeks beforehand. Were we worried about this? No. Were our friends and family worried about this? Yes.
Our friends Chris and Anja were due to arrive the following afternoon so we spent the next twenty-four hours exploring Prague. Being the middle of summer, the city was swarming with tourists (us included) and whilst the crowds were overwhelming in some places, we found that peace, quiet and delicious food could often be found just one street away from the main tourist thoroughfares. Prague is an astoundingly beautiful city and one that we will definitely return to, this time however we had one main purpose – adventure!
On Thursday evening, we successfully took the pedalo out for her maiden voyage accompanied by newly-arrived Chris and Anja plus two other friends we'd met on the campsite. With high spirits and a champagne shower our little Beatles-inspired "yellow submarine" was christened "Boatle" and, after numerous toasts had been drunk in its honour, we all headed to bed, eager to make an early start the next day.
The next morning we packed up all our kit and loaded it onto Boatle – suddenly she didn't seem so spacious after all when filled with four people and all their luggage! We were also throwing ourselves in at the deep end by starting in the centre of Prague, not only were there plenty of ferries, private boats and sightseeing passenger ships cruising around, there was also a huge lock to navigate. None of this proved too problematic though and we were soon waving to bemused onlookers as we pedalled under the famous Charles Bridge.
However, it appeared that the boat was perhaps not as seaworthy as hoped and was taking on more water than would be sustainable over a long period of time. Some quick thinking had to be done whilst we waited at the next lock. Action was to be taken whilst we were still in Prague, a.k.a. where all the shops are. Anja and I set out to find the nearest DIY store and stocked up on silicon and insulation foam whilst the boys took Boatle through the lock and found a safe place to take her out of the water again.
We spent the afternoon making sure that every nook, cranny and screw were sufficiently filled with silicon. Luckily, we had DIY stars from Australia on board! Thanks again for all your help!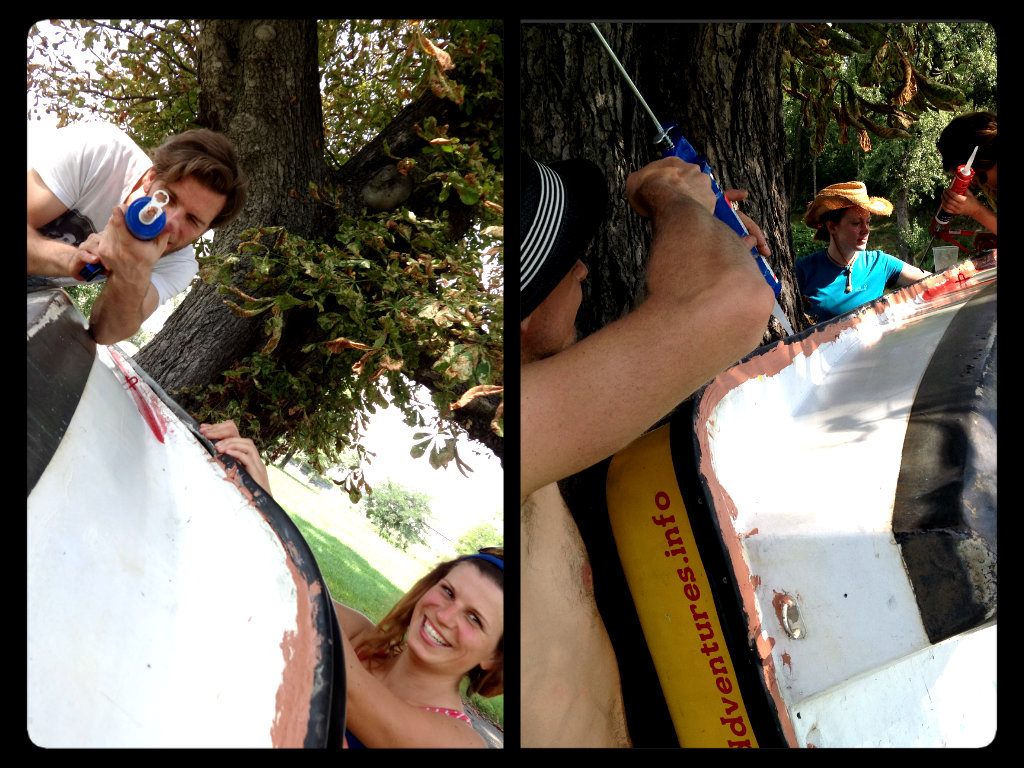 Our only observers were an old man sleeping in the sun and a few people walking their dogs, no one seemed to mind in the least that we were repairing a boat in the middle of Prague – very surreal. No one even batted an eyelash when we covered up all our kit, went out for dinner and cocktails in the Yellow Submarine-themed bar, came back to find everything untouched and proceeded to set up camp. On an island in the middle of Prague.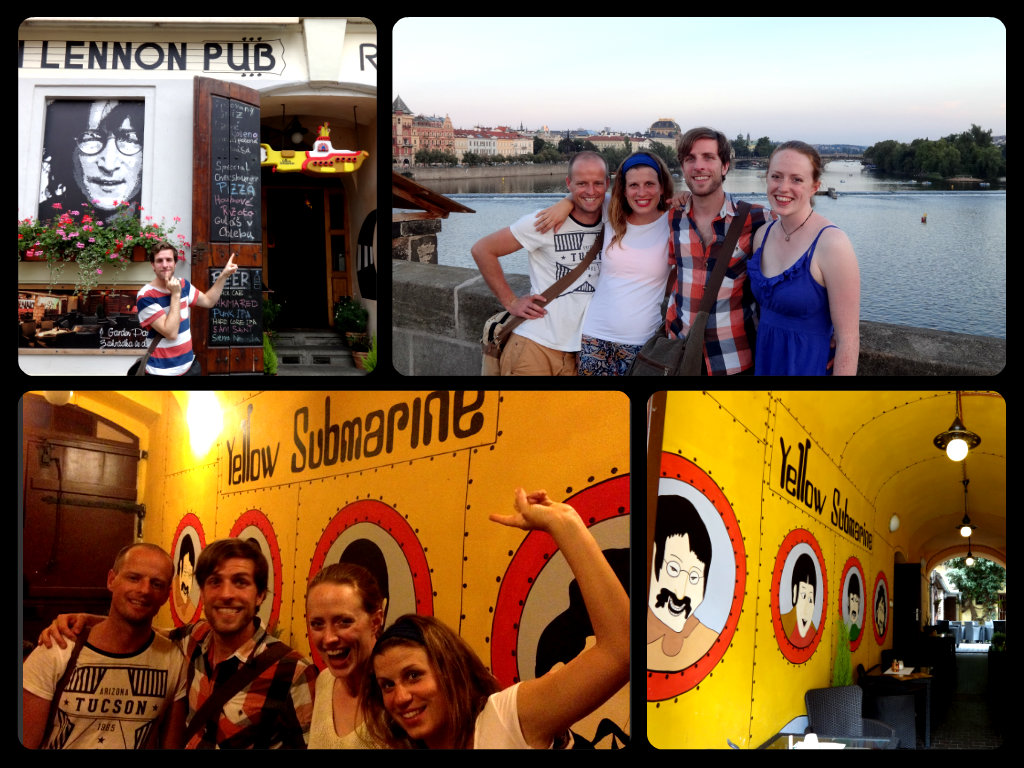 A little behind schedule, we set out again early the next morning keen to get further than the day before. No one seemed to relax until we'd been going for a couple of hours and it became clear that the repair work had done the trick – the boat could float! As we left Prague behind us, we quickly found ourselves in remote countryside interspersed with a few small villages. It was hot and sunny and pedalling was hard work with no current for the first few days, but the water was clean and we were only too happy to jump in the river to cool down several times.
With four people on board we were easily able to rotate pedalling and relaxing/eating/playing the ukulele at the back and life on Boatle seemed quite magical for a while. Our first campsite outside of Prague was probably one of the most perfect wild camps you could find – a small sandy bay to pull Boatle out of the water from, a FLAT area of grass (flat ground to sleep on would later become a luxury), a shady wood separating us from any road/civilisation and a view across the Vltava to a beautiful old Bohemian castle. We could not believe our luck! We set up camp and crossed the river to investigate dinner options beneath the castle, later rolling back into our sleeping bags just after midnight having filled ourselves with delicious, cheap food, found a new flavour of schnapps and crashed a Bohemian wedding. All part of living the adventurous life.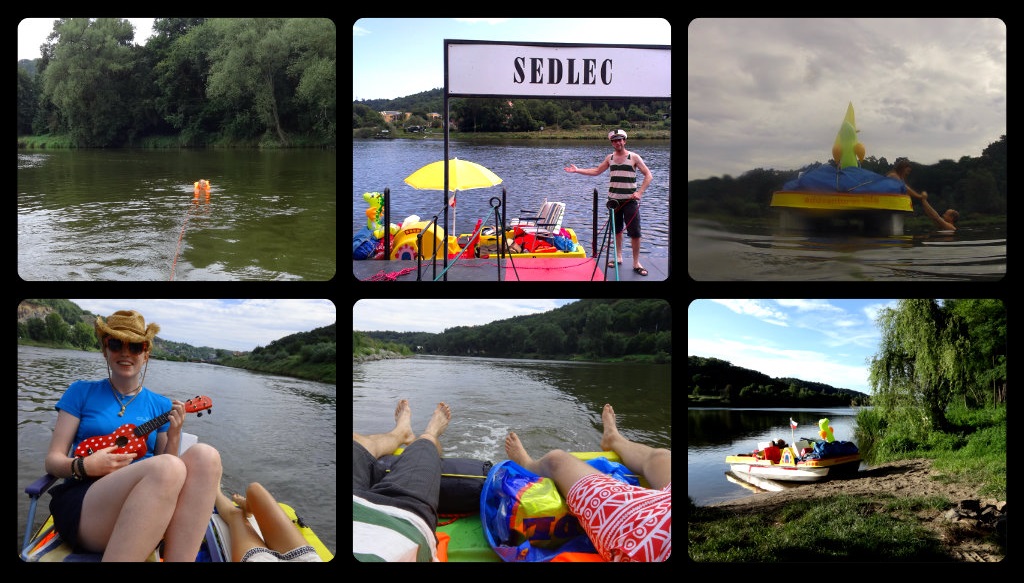 The next day we said goodbye to Chris and Anja and headed off by ourselves for the first time. The day was long and hot, not helped by having to pedal 10km down a canal in the midday sun. The highlight came when we reached the lock at Melnik. At over 100 years old, more than 10 metres deep and 140m long, we were quite overawed to be sat in the middle of the lock in our little pedalo whilst over 28 million litres were released – just for us! Our long and exhausting paddle along the canal had been fuelled by thoughts of finally getting some current beneath us when we reached the Elbe river at Melnik, sadly this excitement soon turned to disappointment as we hit the Elbe and realised that, with four more locks ahead of us, the river still had an average speed of less than 2 km/hour. Solution – paddle harder.

We awoke on Monday, Day 4 of our expedition disappointed to see that the sun had given way grey skies and a steady downpour of rain. The umbrella we had bought for 5€ from the supermarket had already proved invaluable in shading us from the sun, but now it really came into its own. We were able to pedal on the relentless rain whilst barely getting wet at all. Fortunately the rain cleared up by late morning and we were plastering on the suncream as we walked towards Terezín or Theresienstadt in the afternoon.
As a former tour guide and ongoing history nut, I was keen to see the town that had once been one of the biggest Jewish ghettos during World War II. To get there from the river, we moored Boatle just after the lock at České Kopisty and walked about 2km inland to get to the former garrison town. A visit to Theresienstadt is certainly not the easiest thing to do, but it was nevertheless a very worthwhile experience. Housed in a former school building, the ghetto museum was very well curated by former inhabitants and provided a good combination of historical information, details about daily ghetto life and lots of original artefacts and exhibits. Particularly poignant for me were the children's drawings of a life outside the ghetto that they would never get to see again.
Having spent longer than anticipated in Theresienstadt, we decided not to push for the next lock, but opted for a campsite in the nearby town of Litoměřice. An hour or so later we had our tent set up on the neat lawn of the neighbouring yacht club, had showered and hung up our washing and were tucking into a huge meal at the campsite restaurant whilst thoroughly exploiting the campsite WiFi – it all felt so civilised!
The next day was marked by two highlights both in the town of Ústí nad Labem – the castle Burg Schreckenstein (lit. translation 'rock of horrors') and the last lock on the Elbe! We reached Ústí via the 'Porta Bohemica', marking a change in landscape as the Elbe enters the Central Bohemian Uplands and hills suddenly started to jut up from the banks of the river. Mooring the boat just in front of the formidable-looking lock, we walked up to the castle and admired just how tiny our boat looked from above. Burg Schreckenstein has been well restored and whilst the English translations of the self-guided tour were very questionable at times, it was easy to see how Richard Wagner had been inspired to write his Romantic opera 'Tannhäuser' whilst staying at the castle.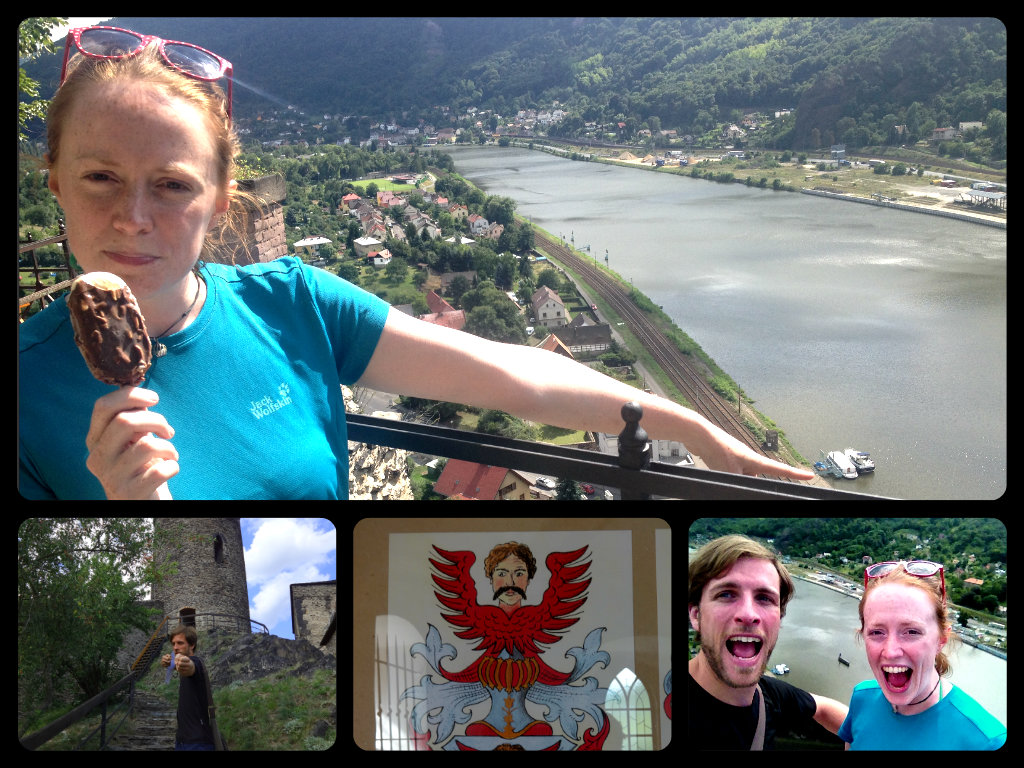 Back on Boatle we had to wait a short while before finding a local Czech-speaker who could call the lockmaster and tell them that a šlapadlo was waiting to enter their massive lock (normally we got a green light to enter the lock before we were even close). Millions of litres of water later and we were finally on the moving water. The difference was immediately noticeable. The next 15km were covered in half the time it had taken us before!
Although delighted to suddenly be moving at such speed, the downside of the new hilly landscape was that it proved very difficult to find suitable places to camp as the banks were mostly steep and rocky and so we ended up camping on a tiny gravelly sand bank, about 3 metres from the water, having been grunted at by grumpy one-armed man serving super cheap beer that the next campsite was over 10km away and only just managing to throw our tent up before darkness descended.
Despite being exhausted from the longest day yet on the river, neither of us felt very comfortable with our camp's location for the night and so we decided that the next morning was the best opportunity for a sunrise paddle. We woke up before 5am to a bleak, misty morning and a cold, wet tent. We packed quickly and headed off, our lack of sleep was soon rewarded by an absolutely beautiful morning's pedalling. Calm, quiet waters, not a soul to be seen, sunlight piercing the mist as it rose over the hills in a stunning display of oranges and pinks. The kind of beauty where you only speak in soft whispers so as not to disturb a thing.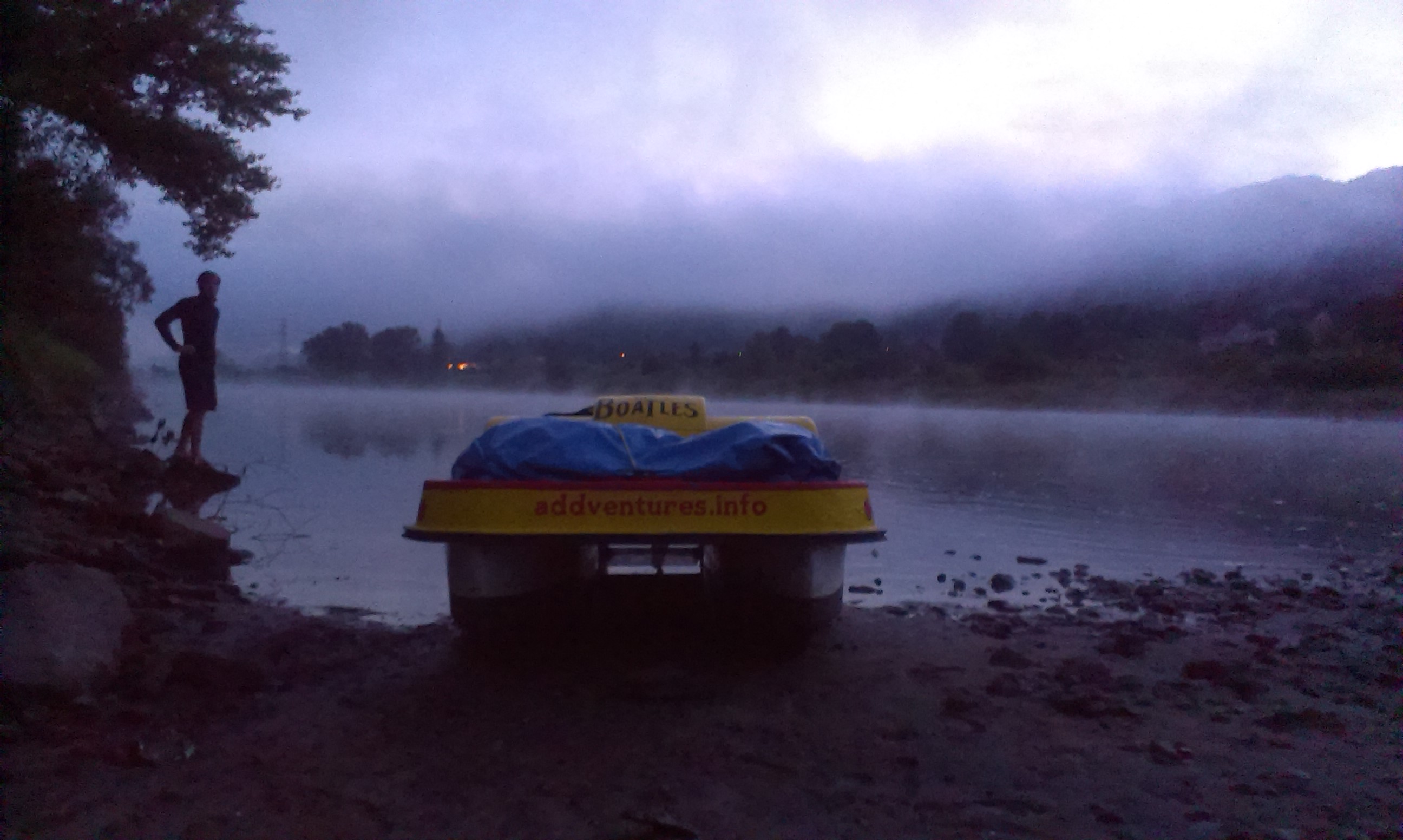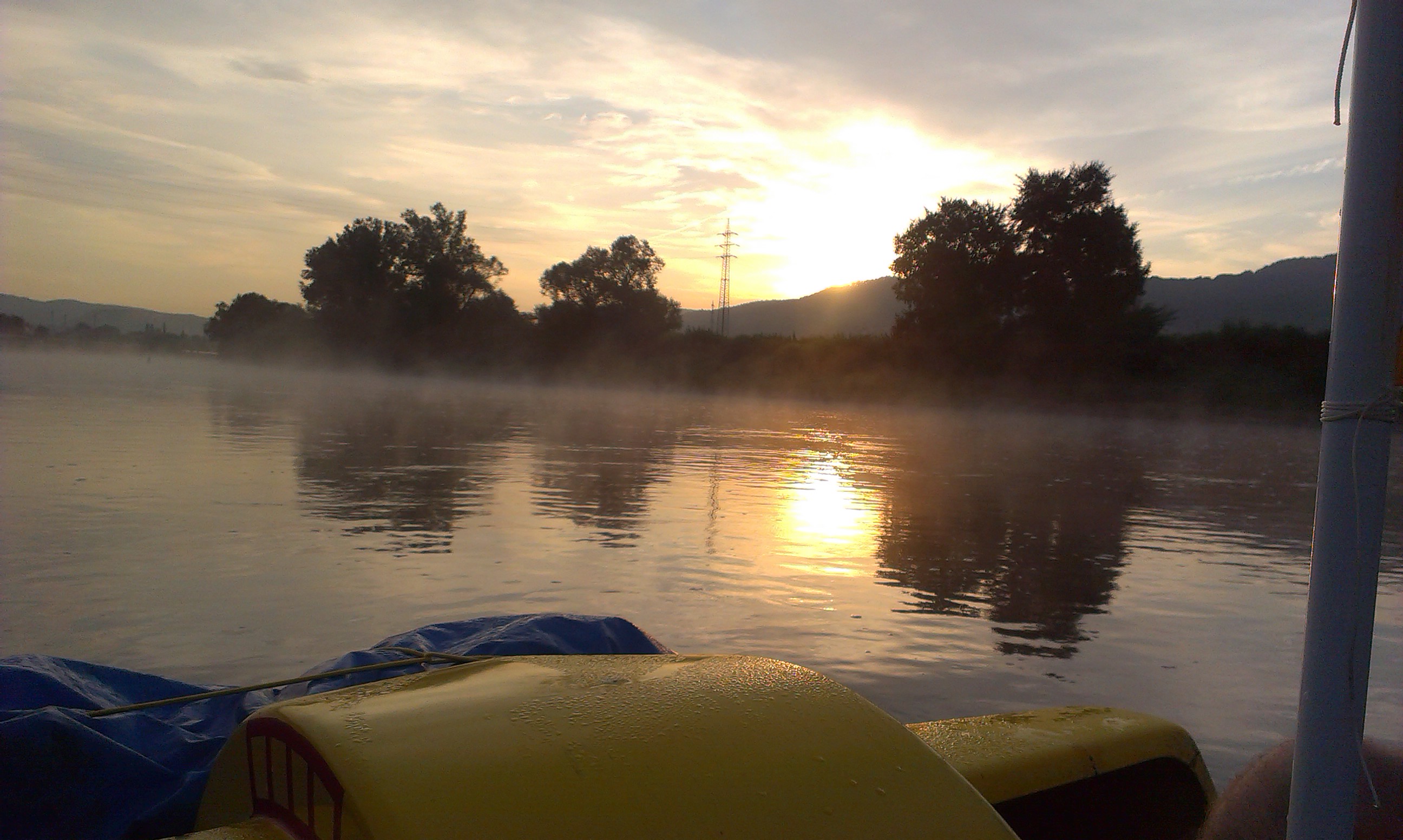 Thanks to our early start, we arrived in the large town of Děčin ready for breakfast. This was to be the last stop on the Czech side of the border so we spent some time here, spending all our Czech koruna, charging phones and once again exploiting free WiFi. Full of omelettes and tea with our shopping in hand, I donned my replacement flips flops (knock-off Crocs, oh the shame! Fashion police, arrest me now!) and we got ready to cross the border into Germany and embark upon the next section of our journey – the Elbe Sandstone Mountains.
The journey continues in Part II, coming soon!
Sarah is a freelance translator living in Berlin. She loves a good old adventure, from dog sledding in Sweden to cycling Britain, from running a marathon to exploring abandoned buildings and from watching the sun rise from atop Ben Nevis to pedaloing from Prague to Berlin.